Downstream Process Development
Rapid development of robust downstream processes
Downstream Process Development
Rapid development of robust downstream processes
Bionova's downstream process development group works closely with our upstream and analytical sciences groups to maximize yields and minimize impurity content.
A Team & Technology Approach to Yield and Product Purity
The Bionova downstream process development team shares a unique breadth and depth of experience that we bring to bear on all client development and troubleshooting projects.  Paired with a state-of-the-art downstream lab that features a battery of Cytiva Akta® systems and other equipment, you can count on Bionova to efficiently generate the pure product you need.
Purest of the Pure
Bionova specializes in difficult to express and manufacture products including antibody drug conjugates (ADCs). These complex molecular constructs present a much higher bar for purity than many other biologics, and Bionova routinely delivers optimized ADC purification processes.
Your Partner for Purification
The Bionova downstream team will collaborate with you unlike any other CDMO. Whether you need a brand new process or need to optimize an existing process for purity or productivity, the fast, nimble Bionova team will help you reach your objectives, on time and on budget. Our team also applies extensive MSAT experience in scale-up and facility fit to help ensure successful and effective cGMP manufacturing.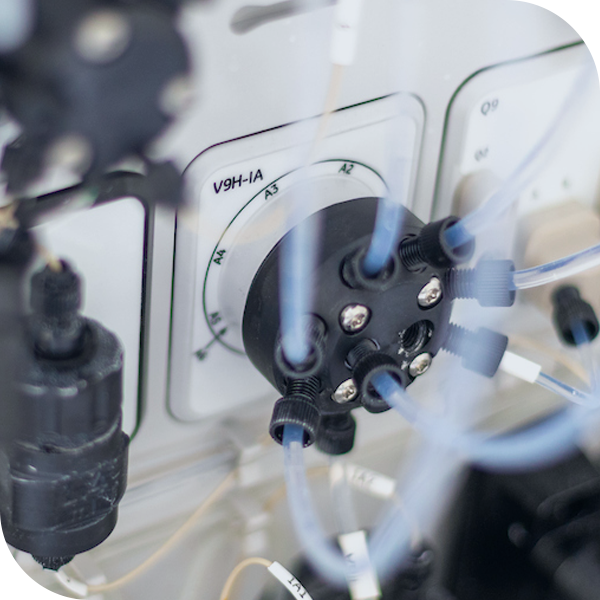 Core downstream process development services include
Filter sizing and flux studies
In-process hold studies
Process verification at scale, using AKTA Ready and AKTA Pilot
Viral clearance studies
Process Characterization
Other custom solutions
Bionova Downstream Development Lab Highlights
ÄKTA platform includes the following systems:

ÄKTA Pure
ÄKTA Explorer
ÄKTA Avant
ÄKTA Pilot
ÄKTA Ready

Downstream purification chemistries include:

Protein Capture: Protein A, Protein G, Protein L, Nickel Column (Protein Capture)
Polishing Step: AEX and CEX Columns

Other processes and unit operations include:

Viral Inactivation, Depth Filtration, Viral Filtration, and UF/DF
High throughput screening
Formulation Development and Stability Studies
Bionova would love to hear from you.